Ragtimes Encore Goes Hollywood
Courtesy of Miniature Horse World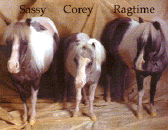 Like father, like son. American Miniature Horse yearling colt, Ragtimes Encore (Corey) recently followed in the tiny hoof prints of his famous sire, Ray Lans Ragtime (Ragtime), by making his first cable television debut. The tiny pinto joined his dam, Sassy Lassies Split Perfume (Sassy), and his sire on Animal Planet's popular show, "Pet Star." According to owner Patti Fairchild, the entire Ragtime "family" including Taylor the Sheltie, was invited to join him for his appearance on the program which broadcast May 16.
While filming the show, the 17-year-old stallion and his family rubbed hocks with celebrities Martin Mull, Henry Winkler, Gloria Estefan, and Jack Hay who were taping an episode of "Hollywood Squares." Fairchild remembered when she and Ragtime had been featured several years ago on the program. "When someone would call on us," said Fairchild, "I always said, 'Rags can't answer right now because he's a little horse.' "