Button is Winning Canada's Heart!
Submitted by: Dianne Crittenden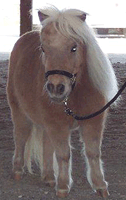 "Button" is a very interesting little horse. She came home with us shortly after she was weaned in 2002. We were getting ready to go to a Miniature Horse Show last June (2003) and discover that she was feeling off. We canceled the show to stay home with her, just one of those feeling you get sometimes. It was a lucky thing that we did. Our vet was called and she was showing the early signs of colic. It took two days and nights of hard work, walking and fighting to keep Button going. We were all exhausted but with all the hard work, tubing, needles and lack of sleep Button pulled through it. Our vet didn't think she would but Button surprised us all by making it, and making her very special to us. Everyone one that comes to our small farm remark about her. She is the first one to greet everyone when they go out to see the other horses. Miss personality, our mascot. Button is not perfect by no means. We wouldn't call her a show quality horse but she has surprised us with her style of show......
Button has charmed even Vicki of the Vicki Gabereau in Vancouver B.C. Then when in downtown Vancouver she appeared with the MTV Select to taste some nice little curled fingers that were offered to her. (Gotta keep those carrot fingers together!)
Button's most recent show was the Telus commercials. She is the "Rock On Pony" who displays her little attitude and rears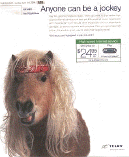 up. During the taping of this event she was such a show off and when the cameras were turned off she just kept up her routine till they shut some of the lights down. A bit of a workaholic. We were extremely impressed with the people who worked on the commercials along with Telus that were present who treated Button and us like gold. We never thought it was that much work to make a commercial. Wow they work hard! So did we! Button loved every minute of it we found out when she appeared disappointed that she was not going to work and had to stay home. Can a horse sulk? I think she did. Anyway she still remembers her routine for the people who come by to see her. Button's magic words are: "Shake it, shake it Button" "Good girl" oh, how she remembers them. Button also made a full page of the Vancouver Province, advertising the Telus high speed internet. That is why the commercials are just 15 seconds. Our thanks to Coe's Animal Talent - Debra and Jaimie & of course Telus. Rock On Button !!!!!!!
Button is now visiting local schools for the kids to hug her and she can still get all the attention she wants. Her other show career will be dull in comparison. The grandkids will be using her for showmanship.

Dianne had also assisted in training the bay gelding with the braids - Rummy is owned by a couple in Maple Ridge along with his stable partner who must accompany Rummy everywhere. Even Roany learn how to shake it just by watching and no treats either! So these little guys are smarter than we give them credit for. The line dancers and the puck mini is owned by Michelle Ryder of Chilliwack.
Button now has her own web page at Mountain Side Miniature Horses: www.mtsideminis.com