Bella Terra's Equine Adventure program provides experiential programming with miniature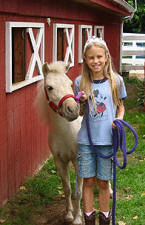 horses for individuals of all ages and abilities. Bella Terra is a nonprofit organization with the mission to empower individuals facing life challenges by providing quality therapeutic, personal growth, and educational opportunities utilizing experiential programming with horses. Over the past three years, Bella Terra have served over 650 clients, most have been individuals facing significant life challenges with a learning process that provides new perspectives and tools to address individual challenges. The focus of the experience with horses is to examine personal strengths and build confidence. This enables individuals to chart a new course to fulfilling their potential. Bella Terra offers both group workshops and individual sessions in southwest Michigan as well as across the country. Their clients have an enjoyable experience while developing communication, problem solving, and leadership skills. The experience targets each person's unique communication and behavioral style while building confidence and self-esteem. The result is a clearer understanding of one's personal effectiveness and approach to achieving goals.
The cofounders, Todd and Kim Shook, utilize their professional career experience and horse knowledge to facilitate inspirational programming. Kim Shook brings her executive management experience to their team building and leadership development program. Todd Shook's career in human services as a Registered/Psychiatric Nurse and a Wellness Specialist at Bronson Hospital is an integral part of facilitating powerful personal growth. Both Todd and Kim Shook are certified by EAGALA (Equine Assisted Growth and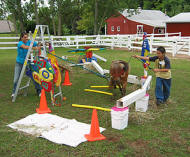 Learning Association – www.eagala.org) to facilitate personal and professional development through the use of equine. The Bella Terra miniature horses are gifted teachers that aid people in better understanding themselves and how they approach challenges.
For businesses, Bella Terra provides team building and leadership development workshops on a fee-for-service basis to fund their mission. They have worked with CEO's, business teams, local governments, and nonprofit organizations. Interacting with horses illuminates what is happening everyday in the work environment, specifically how the team relates to achieve goals. The workshops provide an opportunity to develop new approaches that increase team effectiveness, leading to improved success, productivity, and personal job satisfaction.
In pursuit of their mission, Bella Terra applies this approach to assist individuals facing difficult life challenges in making personal changes that lead to greater happiness and life joy. They raise funds to provide this programming to those in need. They work with at-risk youth to facilitate life skills and leadership development. They provide an action-based approach for individuals to develop tools to sustain sobriety; better manage ADD/ADHD, emotional disorders, developmental challenges, illness and disease; and heal grief and trauma. They have worked extensively with local youth organizations as well as homeless, domestic violence and sexual abuse shelters.
Because this program uses horses, many quickly link it to therapeutic horseback riding. Although similar in results, it differs in that it is not riding and not focused on horsemanship skills. The experience takes place on the ground doing goal oriented activities with horses. Activities such as grooming, obstacle courses, lunging, and many group activities make up the Equine Adventure experience. Participants learn about horse safety and natural horse communication as tools to use during the activities. The focus is not on the right or wrong way of doing things with the horses but rather the effectiveness of their approach.
The pillar of the Bella Terra program is an experience of non-judgment and acceptance.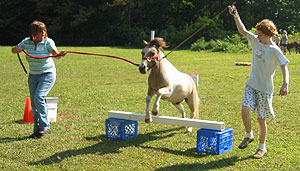 This coupled with the interaction and bonding with horses sets this program apart from other methods of personal and professional development. This connection with horses empowers change and heals the human spirit.
For more information or to support this organization, please contact Bella Terra (www.bellaterrainc.org).